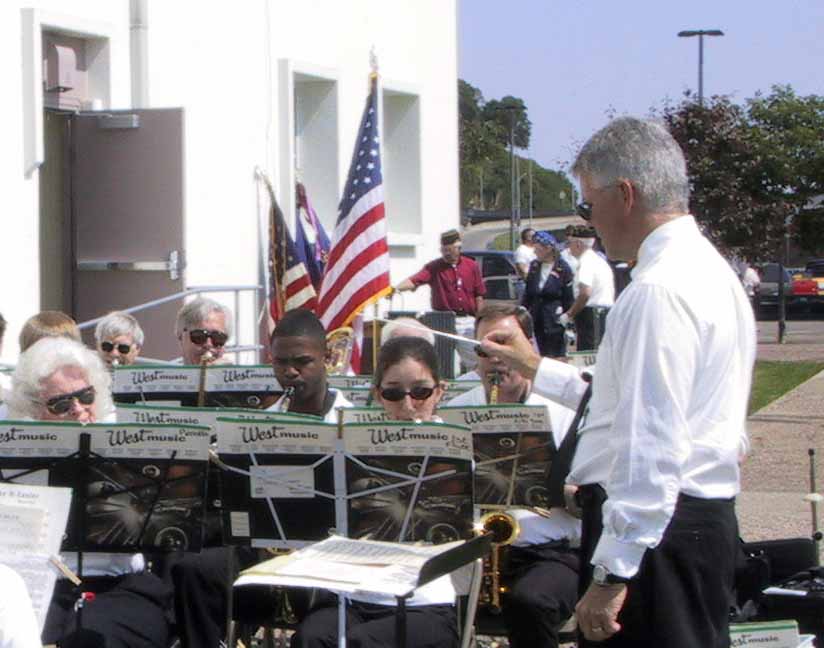 The Burlington Municipal Band "season" actually begins with the Memorial Day Service, in 2003 once again held outside Memorial Auditorium.  (see photo at right, with Mark Eveleth conducting the band)

Steamboat Days Parade

June 16, 2018


I have been asked to post a reminder about the dress code for our concerts:

"Dress for all performances is black pants or skirt and a plain white shirt or blouse with sleeves.  Black shoes and socks or hose should also be worn.  If the weather is extreme, shorts may be allowed at the discretion of the weekly conductor.  The dress code will be enforced, as we desire to present a professional appearance at performances."

For a while, we could no longer rely on KBUR to broadcast news of our concert cancelations, but that situation seems to be rectified.  Now, you can listen to KBUR, or check this web site -- we will try to post concert cancelations prominently near the top of our main page.  Perhaps in the future, we can come up with some sort of e-mail list or even text messages.  Any ideas are welcome.

We sometimes have to cancel concerts after we have already arrived at the park, or even during the concert.  ANYTIME we cancel a concert, it's usually a pretty obvious decision.  We will NOT play in significant rain.  IF it is pouring rain at 7:00 PM, or even 6:30 PM, we will probably cancel the concert.  If radar and weather reports indicate it is almost certain to storm by 8:00 PM, we will probably cancel the concert.  Feel free to share this info with friends, neighbors, and family.

Cascade Bridge is closed so you cannot get to the band shell driving south on Main Street.  In the case of rain, we probably will not make a cancelation decision until very late afternoon or early evening.

And now some leftover (but still valid!) announcements from 2010:

Sue and Al Kristensen have donated nice metal stands for our concerts at the park, so from now on you do not need to bring stands to the band shell.  You will still need to bring your own stand for rehearsals and performances elsewhere.

At the battle of Thermopylae in 480 BC, the Greek forces, including the three hundred Spartans, were overwhelmingly outnumbered by the invading Persian army.  According to the ancient Greek historian Herodotus, it was stated that once the battle began, the arrows flying through the sky from the Persian archers would be so numerous as to "block out the sun."

The Spartan Dienekes responded "So much the better... then we shall fight our battle in the shade."

If it is overcast, then we shall play our concert in the shade.

Enhancing the quality of life

in Burlington and Southeast Iowa

since 1927


Pete Korb, conductor of our band for the Steamboat Days Parade, has thoughtfully provided the following information:

It's Sunday in the summer of 2015 in Burlington, Iowa ... so there is a chance of thunderstorms -- but THIS Sunday offers us a variation on the familiar theme:  The big question is likely going to be not whether it will rain before the concert starts, but instead whether it will STOP raining in time for the concert.  Stay tuned.

Membership in the Burlington Municipal Band is by invitation only.  By this time, all returning and new band members should have received a notice from personnel director Jennifer Hexom.  All members must fill out a scheduling form; many of you have already filled out this form via e-mail.  For those who have not yet filled out the form, here is the link for the online version:

1)      Dress is regular performance – black bottoms, white tops

2)      We are Entry # 32 and will be staging near the corner of North Eighth and Washington (SW corner).

3)      Call time is "9:30am-ish" – The parade starts at 10am, so please get there in time to get music, find a spot on the trailer, get settled, etc.

4)      BRING YOUR OWN MUSIC STAND OR LYRE!

5)      Thanks in advance to those playing Saturday AM – We always have a great group!  There are no judges this year, but I'm sure we'll still get the "Best Band" Award as it seems we're the only band!  Lol

In past years, this has occasionally been subject to substantial change.